Dog Teeth Cleaning
At Lucky Pet Tampa, Dog Dentals without anesthesia is offered every month by Vicky Bonilla.
Dog Dental Calendar 2023
August 1 & 18
September 5 & 15
October 3 & 20
November 7 & 17
December 5 & 15
To schedule your dog's Non-Anesthesia Dentals with VIC Pet Care, please visit https://vicpetcare.com/pet-care-services/non-anesthesia-dentals/. To learn more, please continue reading.
Who does the Dog Teeth Cleaning at Lucky Pet?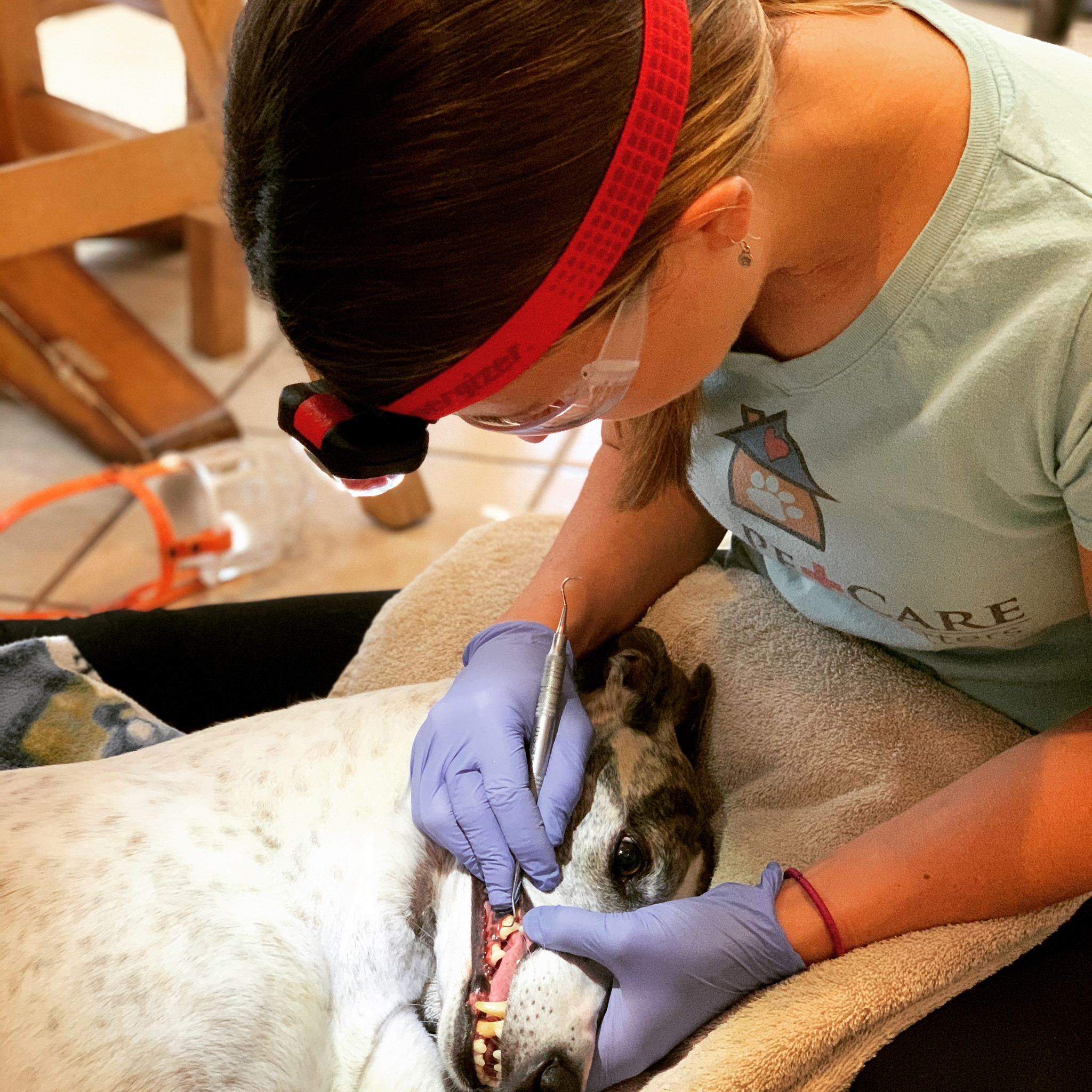 Vicki Bonilla started up V.I.C. Pet Care in July 2010 and has met over 700 clients in the area. She moved to Tampa in 2007 and is now a loving mother of 2 fur kids and 2 little boys. Between V.I.C. Pet Care and her family she stays pretty busy.   

Vicki has been working in the animal health field for over 20 years.  She started working at a young age in South Florida as a veterinary technician until she went off to college. She graduated from Clemson University with a biological science degree in 2005.  Since graduation she has followed her passion for pet care.  Even though she's worked with several wildlife rescue centers and was a zoo keeper, her love and passion has always been directed back to our own critters at home! 
Is my dog a candidate for teeth cleaning without anesthesia?
Vicky does a dental consult before doing the procedure.
Dogs are candidates if the don't have:
Gum exposure
Loose teeth
Needs extractions
Has infections

If your dog is in Stages one or two, he might be a candidate for Non Anesthesia Dental. If he is on stage 3 or 4 he needs to visit a vet as soon as possible.
Why should your dog get a deep teeth cleaning?
Dental Disease in dogs can lead to: 
Mouth pain or problems chewing food
Tooth Loss
Diabetes
Heart Disease
Liver Disease
Kidney Disease
Respiratory Disease
Weakened Immune System

Dental care is very important to our pet's health and is usually overlooked by most pet owners. Without proper care, teeth and gums can become infected and lead to more serious disorders. If your pet is at Stage 1 you can continue brushing their teeth on a routine basis to prevent periodontal disease. If your pet is at a Stage 2 or 3 then they are in need of a full dental. A dental under anesthesia can cost anywhere from $200-$1000. If your pet is not a candidate for anesthesia due to their health or cost is an issue you can try an anesthesia free dental cleaning with V.I.C. Pet Care. We not only offer dog teeth cleaning anesthesia free, we also offer cat  and anesthesia free dog dental cleaning
What does a dog dental cleaning includes?
Anesthesia Free Ultrasonic Cleaning

The dental treatment includes: cleaning, scaling, brushing, polishing and antibacterial rinse.

Benefits include: anesthesia free/no risk, reduced cost, and no recovery time needed. Great for preventative care. 
Step 1: Dental Cleaning: Scaling removes tartar and build-up from your pet's teeth above and below the gumline.
Step 2: Polishing: Polishing will smooth the surface and decrease the adhesive ability of plaque.
Step 3: Subgingival Wash: The scaling and polishing of the teeth can cause debris to become trapped in the gums. To prevent any chance of infection we gently flush the gingiva with an antibacterial solution once the dental has been performed.
How much does the Non Anesthesia Dog Dental cost at Lucky Pet?
$45 for dental consult
$175 dental cleaning (includes consult)
Great! Where can I book an appointment?
Visit our Facebook page for more photos: facebook.com/luckypettampa